Our services
The PSSN Services are made up of five main technology areas. The core of the Services is the PSSN Wide Area Network Managed Service which provides scalable, resilient and cost effective connectivity services for public sector buildings across Northern Ireland. This includes over 2000 sites such as Schools, Emergency Services, Councils, Prisons and GP Practices to name a few. A number of complementary services have been developed on top of the PSSN Network to improve user experience, productivity and best value for money. The Services include flexible seamless connectivity to public and private cloud based services, market leading collaboration tools, supporting new models of hybrid work styles and increased levels of security management.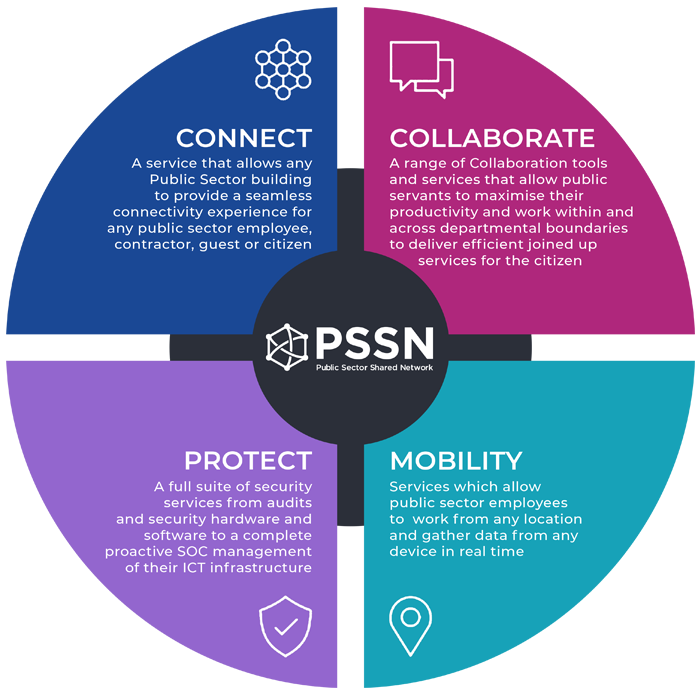 ---
CONNECT
A service that allows any Public Sector building to provide a seamless connectivity experience for any public sector employee, contractor, guest or citizen.
---
COLLABORATE
A range of Collaboration tools and services that allow public servants to maximise their productivity and work within and across departamental boundaries to deliver efficiente joined up services for the citizen.
---
PROTECT
A full suite of security services from audits and security hardware and software to a complete proactive SOC management of their ICT infrastructure.
---
MOBILITY
Services which allow public sector employees to work from any location and gather data from any device in real time.